We try to immerse our guests into our values and experience them, namely the high quality of all our ingredients, variety of flavors, cooperation with local producers, respect for the French cuisine and adherence to historical values. Our whole team under the lead of the chef, Roman Dolejs, will prepare for you an extraordinary experience thanks to excellent gastronomy, wine match and use of local seasonal ingredients.
We care for the history of our city and we also have a deep respect for French cuisine; therefore, we decided to name our restaurant Chapelle, which is the French translation of the original name that points to the nearby historical sight. This small chapel is a symbol of the location where our restaurant is situated. Our hotel itself also carries the name of this structure but this time in Czech.
OUR TEAM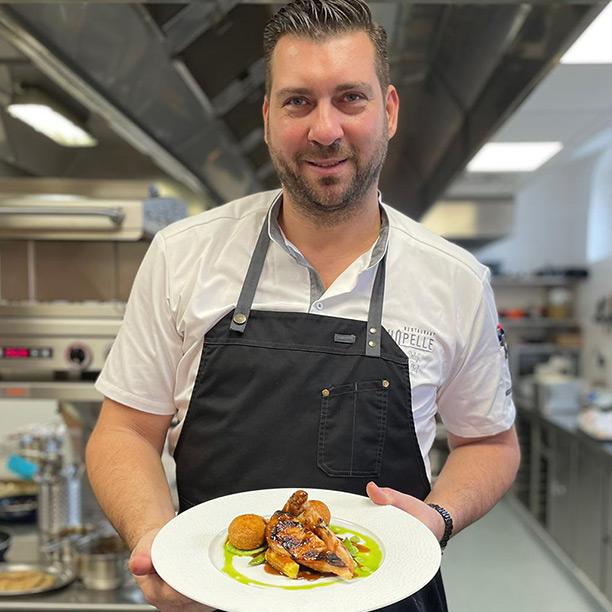 ROMAN DOLEJS
Roman initially devoted his time to Italian cuisine but when he discovered the variability of French cuisine, he decided to devote his whole heart to it. He finished a secondary school of gastronomy and hotel industry 28 years ago and for a few years afterwards he worked under the wings of several chefs in Italian restaurants. In 1999 he landed an internship in Lyon and then he worked as a sous chef in La Perle De Prague. This enabled him to land several other internships in various restaurants, some of which have been awarded with a Michelin star. After his return he worked as a chef in several prestigious restaurants and finally in 2020 he came to work at our restaurant.
Roman likes to experiment and says:"I see that people often combine Japanese, Thai or other gastronomy with the French one and it works. It used to be true that people would think of chefs as daubers or even better, alchymists. But if the chef knows what he is doing and knows how to combine things, the success is assured. And I like to combine the French cuisine with the Czech one and the one from Austria-Hungary."
ADAM PLUSCENKO
Adam finished a secondary school of hotel industry and right after his graduation he started his work journey in the Budweis restaurant Solnice. From there he began to sail the European waters on a ship called Antonio Belluci* where he was first introduced to global gastronomy trends. For two seasons he worked with an international team of chefs at the large fleet called Viking River Cruises. After his return to the Czech Republic he gained new experience in several restaurants in Prague – Mlynec under the lead of chef Marek Sada, V Zatisi or in the ever-growing franchise Kolektiv. But the republic was not big enough for him for long and he set sail again, this time on the transoceanic ship Mein Schiff owned by TUI Cruises. His journey took him to Pisek and he dropped the anchor in our restaurant. He looks forward to sharing his experience with you.
Adam likes the Mediterranean as well as the Central European cuisine and various fresh ingredients that enable him to prepare dishes with strong flavor.